Indonesian sports drinks manufacturers marketing sports drinks as a health drink alternative
As consumers become more aware of and concerned regarding health risks and obesity, the sports drinks market is expected to continue growing. However, most of these drinks are largely physical activity driven, making it an attractive product for consumption for only those who seek post work out refreshments and need to feel energized during exercise. Others mostly consume the product seeking association with their favorite athletes. These factors have actually led the sports drinks manufacturers to rope in such marketing techniques wherein these buying trends are exploited. However, the techniques, even if effective to a certain extent, fail to promote the drinking occasion outside of exercise or any sports related activities. However, there are markets wherein athletic and workout cultures are not as influential in beverage intake decision like in Indonesia. Here, the key players such as Pocari Sweat by Otsuka Holdings Co Ltd have been leveraging a youthful consumer base, changing lifestyles and warm climates to transform sports drink to an everyday drink.
Birth of the specialized sports drinks
The global sports drinks market has had its share of difficulties. In spite of being affected during the global recession period of 2007-09, as well as increased inspection on the sugar content of the drinks, economic recovery and product reformulations have revived the category long back. This recovery could be accredited to the introduction of sugar free or low calorie variations that helped remove apprehensions concerning sugar intake. With this, brands also developed specialized uses, like drinks formulated with vitamins and carbohydrates to fuel the body before a workout, or drinks with electrolytes for use during exercise. While the introduction of such drinks has actually done well to attract specific consumer segments, companies are also limiting their brand potential with narrow, sports focused campaigns. To cite an instance, even if there is a decline in the purchase of sugary carbonates, it is mainly due to health consciousness but it does not mean that buyers are training for marathons and would like drinks of that category only. So, while the health conscious consumers may pay a premium for performance beverages, positioning them like this does little to attract the average consumers who are just seeking day to day refreshments. Therefore, in order to stay relevant with core customers, performance must be emphasized upon. However, for attracting casual purchasers, taste, refreshment and convenience plays a major role. This is exactly what the Indonesian sports drinks market has worked upon.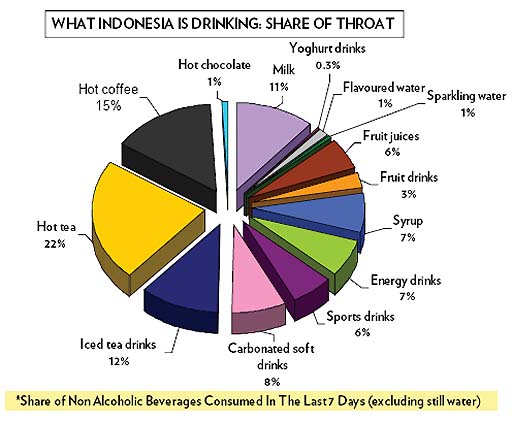 Sports drinks in Indonesia – fastest growing segment
In Indonesia, the sports drinks market is considered to be the fastest growing segment in the soft drinks category in terms of off-trade volume over the past few years. Sports drinks are the fifth most consumed beverage after bottled water, Asian specialty drinks, RTD tea and carbonates. The market share of sports drinks is more mainly because the manufacturers have been able to leverage the USP of the product to meet with the needs of Indonesians, thereby increasing sports drinks occasion and making the category popular among the consumer base.
Besides that, Indonesia has a tropical climate, which is characterized by high humidity and high temperatures. The climate has further made these on-the-go drinks like bottled water and bottled RTD tea along with sports drinks which is fortified with electrolytes and carbohydrates, a preferred choice among consumers. The manufacturers also have positioned these sports drinks as a more effective hydration system. For example, an Indonesian television advert for Mizone Active Hydration centers on an Indonesian office worker using the product to be at his 100% even at the office. The composition and look of these drinks also play key roles in their appeal to a broader consumer base. All these factors have ensured that the sports drinks category remains popular and is not stereotyped as a drink partaken of during exercise only.